Applications
WindTalker has developed a plug-in for Microsoft Word® that allows the user to mark and secure confidential information at the sub-file level. The user has the ability to protect information based on administrator-defined roles managed by the VECTOR server. The encrypted document elements are stored within the native Word® file format. This eliminates the need for multiple file versions for each classification level and allows for differential sharing of a single document.
See It In Action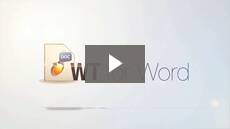 WindTalker's Chat application allows for secured communications for mobile-to-mobile Android™ messaging. WT Chat encrypts each transmission based on the intended audience. The encryption keys can be globally changed manually or in an automated fashion.
WT for Windows is a tray application for Microsoft Windows® that easily allows you protect and unprotect entire data files or information stored on the system clipboard based on the viewer's role. WT for Windows uses WindTalker's VECTOR framework to create, change or revoke security role keys for the ultimate in data protection.
WindTalker encapsulates security communications and procedures. Programmers no longer need a degree in cryptography to create secure information technology solutions. WindTalker provides a robust Software Development Kit (SDK) that enables organizations to create their own solutions as desired. This approach greatly simplifies integration and plug-in development, and provides greater flexibility independent of the networking environment. These plug-ins can be developed in-house or through 3rd party partners using the WindTalker SDK.